₦44,460.00
IPS
LG Personal TV's IPS display boasts top-notch picture quality from all angles, allowing viewers to experience consistent color from every point of the screen. Its lifelike colors will deliver a completely immersive viewing experience.
*only for 22inch model
2 in 1 & Wall Mount
You only need one LG Personal TV to watch television and use a computer monitor in your personal space. For heavy Internet users or avid movie fans, they can use it as a personal monitor. For television viewers, they can mount the monitor on a wall to use it as a TV.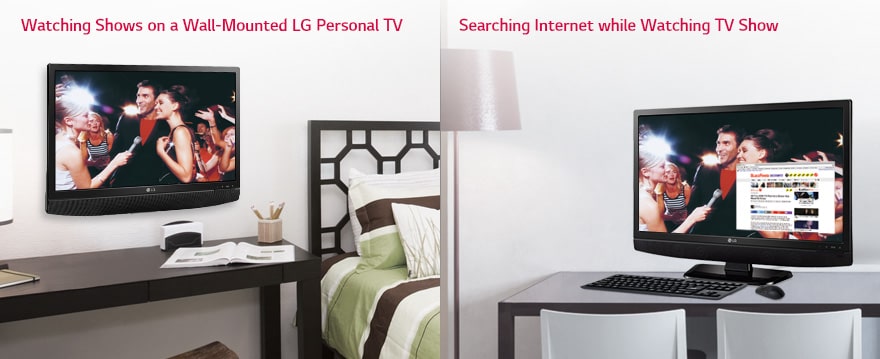 Stereo Speaker
Built in stereo speaker enables you to take a sound test without extra speakers.
Divx HD Play
Users can instantly play digital video express (Divx) content on LG Personal TV just by connecting them with USB. That saves time, effort and money to buy and use a Divx player
LG TV 22MT48A brought to you at the Lowest Price Online by The Lu Gold Store
21.5-inch IPS Full HD Display (1920×1080) * only for 22inch model
250nits Brightness
178/178 Viewing Angle
GTG 8.5ms – 24inch /5ms – 22inch Response Time
10Wx2 Stereo Speakers
How To Order
1. Visit the Shop Page by using the link in the navigation menu or the button on the home page
2. Select the Product Category you want. Lets say you want a new Television, you would select that Category from the Drop Down Menu on the Shop Page or from the Navigation Menu
3. Use the filter tools to narrow down your search by size, capacity, colour or price. You can also choose multiple options.
4. Your Search results will be shown. You can then sort those results by brand, or from the lowest price to the highest price.
5. You can then view your final results, choose the item you want, read its descriptions then add it to your cart.
See Help Centre for more