KENSTAR KS 15AMPS 15Amps AVS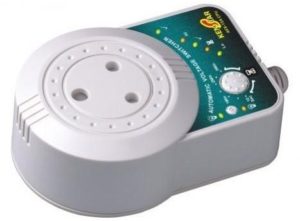 This affordable and reliable KENSTAR AVS 15 AMPS For AC is very effective especially in the Nigerian home. It is used to protect your Air Conditioner from power surges and fluctuation in electricity, specifically over and under voltage levels of long duration. It eliminates the need to turn off your appliances each time there is a power surge. It also protects your Air Conditioner by the switching off and on of other equipment such as vacuum cleaners, pumps, motors, TV etc.
DESCRIPTION
15 AMPS AVS
Adjustable from 10 seconds to 10 minutes
Prolongs the life of the Air Conditioner
Eliminates the needs to switch off AC during fluctuation
Safe guard for high value appliances.
Low cost for protecting the high value appliances.
How To Order
1. Visit the Shop Page by using the link in the navigation menu or the button on the home page
2. Select the Product Category you want. Lets say you want a new Television, you would select that Category from the Drop Down Menu on the Shop Page or from the Navigation Menu
3. Use the filter tools to narrow down your search by size, capacity, colour or price. You can also choose multiple options.
4. Your Search results will be shown. You can then sort those results by brand, or from the lowest price to the highest price.
5. You can then view your final results, choose the item you want, read its descriptions then add it to your cart.
See Help Centre for more